Introducing
QuenchSea Reel
the world's only manual subsea desalinator that turns seawater into freshwater instantly
Discover the revolutionary must-have tool for boaters, sailors, yacht owners, life rafts & fishermen, combining cutting-edge technology with a user-friendly design 
Secure yourself a QuenchSea Reel Pre-order now for delivery before Dec 2023

QuenchSea Reel
in a nutshell

Low-maintenance & easy-to-use device

Generate 1.5L freshwater in 5 minutes 
Compact and lightweight design for easy portability
Affordable and low-cost membrane replacement
Sea water desalination on demand
Immediate access to fresh water in an emergency

Low cost and low energy input

Deep Sea desalinator requires 300m to 500m sea depth
Robust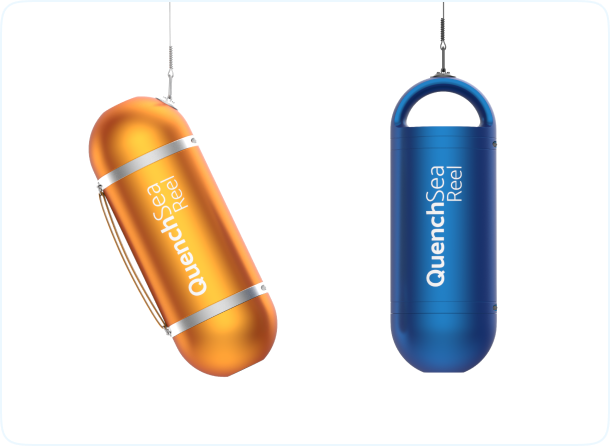 Join the revolution in
portable seawater desalination
Get a 50% discount pre-launch
Be among the first to own it
Effortlessly transform saltwater to clean drinking water
How the Innovative Technology of
QuenchSea Reel

Works

Simply connect the device to the special fishing reel provided, drop in the ocean to a depth of 300m to 500m - leave for 5 minutes at depth then simply reel up the device. 1.5 liters/0.4 US gallons of fresh water is collected in a small compartment
Reverse Osmosis Membranes
Pressure at a depth of 300m to 500m

No pumping required
Just drop and Reel Up

QuenchSea Reel uses the natural hydrostatic pressure at a depth of 300m/1000ft to 500m/1600ft to drive a reverse osmosis process to produce fresh water.
QuenchSea Reel uses an advanced and state-of-the-art industrial Reverse Osmosis membrane to remove salts, bacteria, parasites and microplastics. Seawater molecules are forced through semi-permeable membranes to filter out impurities, salts and all contaminants leaving only pure safe drinking water that is guaranteed to be below 1,000 TDS (Total Dissolved Solids)
Instructions manual
Receive the instructions manual right to your inbox August 2023
Technical information
Desalination Capacity:
1.5 Liters/0.4 US Gallons every 5 minutes
Min. Operational Sea depth required:
300m/1000ft
Salt Rejection:
98% of salt rejection, depends on salinity, pressure and temperature of feed water.
Max. Operational Sea depth:
550m
Reverse osmosis membranes:
replaceable
Reel line length:
550m/1800ft
Technology:
Reverse Osmosis
Dimensions:
15cm x 45cm (6in x 18in)
Membranes:
pre-installed ready for use
Max Feed water temperature:
45°C / 113°F
Pre-order your QuenchSea Reel today
Want to learn more? check our FAQs
What is QuenchSea Reel?
QuenchSea Reel is a low-cost manual subsea desalination device that requires sea depth of 300m to 500m. It is a portable device that can remove salt and other impurities from seawater, making it safe for drinking.
Is it easy to use?
Yes, the device is designed to be user-friendly and easy to use. Simply connect the device to the fishing reel and drop in the ocean to a depth of 300m to 500m. Keep at depth for at least 5 minutes.  Approximately 1.5 litres of clean water is produced within 5 minutes of operation. Then simply reel up, release the reject brine and pour out the freshwater from the main compartment.
Can QuenchSea Reel be used onshore?
This desalinator requires sea depth and can only be used in sea locations that have a minimum depth of 300m
What are its benefits?
The desalination device offers several benefits: convenience, portability, and affordability. This device allows you to access clean drinking water at sea as long as you have a minimum of 300m sea depth.
Where can I buy replacement filters/membranes?
Is it suitable for long-term use?
Yes, the device is designed for long-term use. With proper maintenance, it can provide clean drinking water for years to come. The only consumable is the Reverse osmosis membranes.
Does it come with a warranty?
Yes, our handheld desalination devices come with a limited 3 month warranty. Please contact us for more information on the warranty coverage.
How do I know if the water is desalinated
Test taste is the easiest way to find out if the water is drinkable.
How do I know what depth to drop QuenchSea Reel
Using either nautical charts or a sonar system will help identify the sea depths.
How does it work?
The device uses reverse osmosis technology to remove salt and other impurities from seawater. The device needs to be dropped in the ocean to 300m to 500m sea depth. Pressure at a depth of 300m to 500m drives a reverse osmosis process forcing seawater through a semipermeable membrane that only allows pure water to pass through, leaving the salt and other impurities behind. The device is then simply reeled up on a special fishing reel or on a normal fishing reel with at least 500m of fishing line.
What are the maintenance requirements?
The maintenance requirements of the device are minimal. It should be cleaned regularly; ideally, before and after each use.  The pre-filter should be replaced every 6 months at a minimum.  RO (reverse osmosis) membranes should also be replaced when necessary to ensure optimal performance.
How long do the membranes last?
We use dry RO membranes and if unused can last up to 5 years.  Once used, the life of the membrane depends on several factors, including quality of feed water, pressure and temperature gradients. We recommend having extra membranes to cover any eventuality.
What are the minimum sea depths required?
Minimum Operational Sea depth required 300 - 500m. The reel that is supplied with QuenchSea Reel has a maximum line of 500m. 
How much does it cost?
The pre-launch price for QuenchSea Reel is $150 + $30 USD global deliveryReplacement filters come in packs of two and retail for $60 (including delivery)
Is it available in my country?
QuenchSea Reel can be shipped globally. We offer a flat rate shipping to both domestic and international based on the cart's value and the package's weight. We use UPS for deliveries, returns and tracking. Once shipped, we will send you a tracking code. Your order may be subject to import duties and taxes (including VAT) incurred once a shipment reaches your destination country. We try our best to streamline the process. We sometimes pay import duties and VAT, but ultimately you are responsible for these charges if they are applied.
When are deliveries?
We aim to deliver before Dec 2023. Pre-orders are 100% refundable.
What is the TDS after desalination
The TDS or Total Dissolved Solids after desalination is below 1,000 TDS